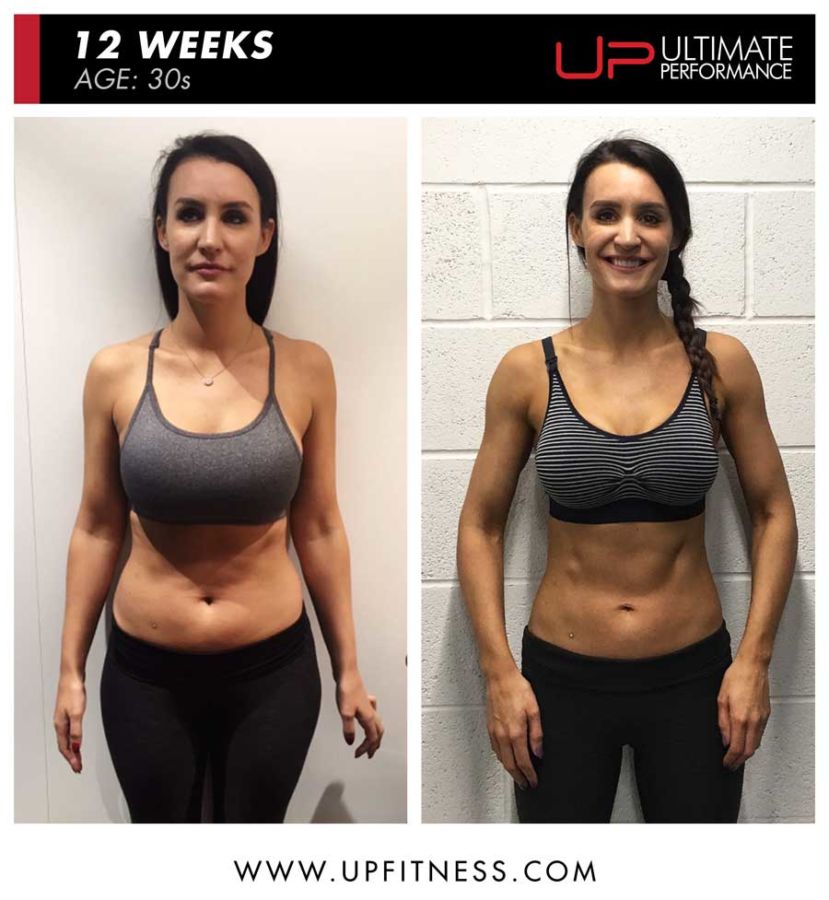 Rebecca has gone from fearing weight training to becoming strong, confident and capable in the gym after her 12-week transformation at Ultimate Performance Manchester.
Before U.P., she had been feeling more and more unhappy about her inactivity and poor diet, but wasn't comfortable training in a gym around other people to make the big life changes she wanted.
Businesswoman Rebecca had always made excuses that she was too busy to train because of her hectic work schedule.
But working with her dedicated personal trainer at U.P. Manchester changed all that from day one.
Before starting her transformation, she had never lifted weights, and like so many women, found it daunting at first.
---
DON'T WASTE YEARS STRUGGLING TO ACHIEVE RESULTS – U.P. CAN HELP
---
With the help and guidance of her trainer, she developed the skills and knowledge she wanted on how to train efficiently and effectively in the gym.
She was over the moon with her results and loves that exercise is now an integral part of her everyday life.
"I feel so much healthier, have more energy and have now found a love for exercise finally for the first time in my life!"
Rebecca talks about overcoming her fear of the gym, learning how to train, and how she now has the tools to stay fit and healthy around her busy lifestyle.
What obstacles did you overcome to start your transformation at U.P.?
I had become increasingly unhappy with my poor diet and lack of exercise.
I felt I didn't have the time or the energy to fit it into my diary whilst trying to run my business.
Not to mention a part of me had been avoiding it, because I had never been confident within the gym environment.
I didn't like exercising in front of people and had never lifted heavy weights before, so I was generally apprehensive. It sounds crazy to think that now.
---
ACHIEVE YOUR FITNESS GOALS IN A MATTER OF WEEKS – GET IN TOUCH TODAY
---

What did you find as a result of training with U.P.?
I instantly felt comfortable when I walked through the doors at U.P.
All of the trainers and staff are so friendly, and all of the other members are on the same journey, so we soon started sharing our stories with one another, which really helped to keep me motivated along the way.
My trainer, Steve, has been amazing throughout!
He is so professional and knowledgeable, so all of my fears of working out in front of people disappeared on the very first day!
The way the training sessions are structured makes it really quite easy to fit into my busy working schedule as they really work you hard in the hour that you're there, along with all of the nutrition advice the results started to show quickly.
I feel so much healthier, have more energy and have now found a love for exercise finally for the first time in my life!
What did you like most about your journey with U.P.?
As mentioned previously, the environment, the training and the nutritional advice has been second to none, however, I specifically enjoyed the fact that U.P. is a private gym with an incredibly focused and disciplined approach. This allows for the sessions to be very efficient.
---
GET MAXIMUM RESULTS IN MINIMUM TIME – CONTACT US TODAY
---
What other benefits have you taken away from U.P.?
The meal plans – I loved receiving the ready-made meals from EatUP. They have made life much easier and have kept me on track.
Discipline – I now believe that exercise will always be part of my daily life.
Energy and drive – The whole experience has given me a more positive outlook and belief in what I can achieve.
Would you recommend U.P.? If so why?
I would thoroughly recommend U.P. to anyone. As someone with a busy professional and personal schedule, as well as an apprehension towards the gym, I can honestly say that through U.P. you will have no excuses.
My trainer Steve and the rest of the team have been brilliant throughout. They have all been very encouraging and have made the entire experience very comfortable, fun and memorable.
---
READY TO MAKE A TRANSFORMATION LIKE CRISTINA AND LEARN ABOUT THE TRAINING AND NUTRITION THAT WORK FOR YOUR BODY? START TODAY!
OR START  YOUR ONLINE TRAINING PLAN WITH 'LIVE UP' FROM £50 TODAY
We show you the best, we don't show you the worst.
We show you people who follow the plans, not those who are all talk.
We show you those who inspire even us with their commitment to their results.
You cannot get results exactly like these. You are unique and that means you can only get your own best possible results.
Your results are a function of time spent following the plan; your genetic response to the right exercise and diet program; how hard you train; how consistently you come to the gym; how disciplined you are with your diet; & your starting point.
Oftentimes the lower your starting point (poor fitness, terrible body composition) the better your results.
We cannot do the work for you and the results you see here are a testament to the work ethic of our clients.
Our reputation is that we are the best trainers in the world for helping you to unlock your potential, & we can lead you to the door, give you the key, even turn the handle and push the door open, but we cannot walk through it for you.
In the end the result is down to you.
Like these results? Send us your details in the form below to receive information about our programs