If you are reading this, I have just come back from a beach holiday.
It was my first proper summer beach holiday ever – because for the first time ever, I felt completely comfortable with myself to go away somewhere really nice and hot, take the body I am now proud of, wear a bikini and just fully enjoy my time away. Finally!
I started writing this blog part at the '3 weeks in – 6 weeks to go' point of the diet process as if I've already completed this transformation, because at this time I believed 100% that it would actually happen for me.
I found the right frequency and stayed tuned in. I somehow knew the result would be amazing and I never before believed that I could achieve what I managed to achieve with my physique. I tried and failed many times before.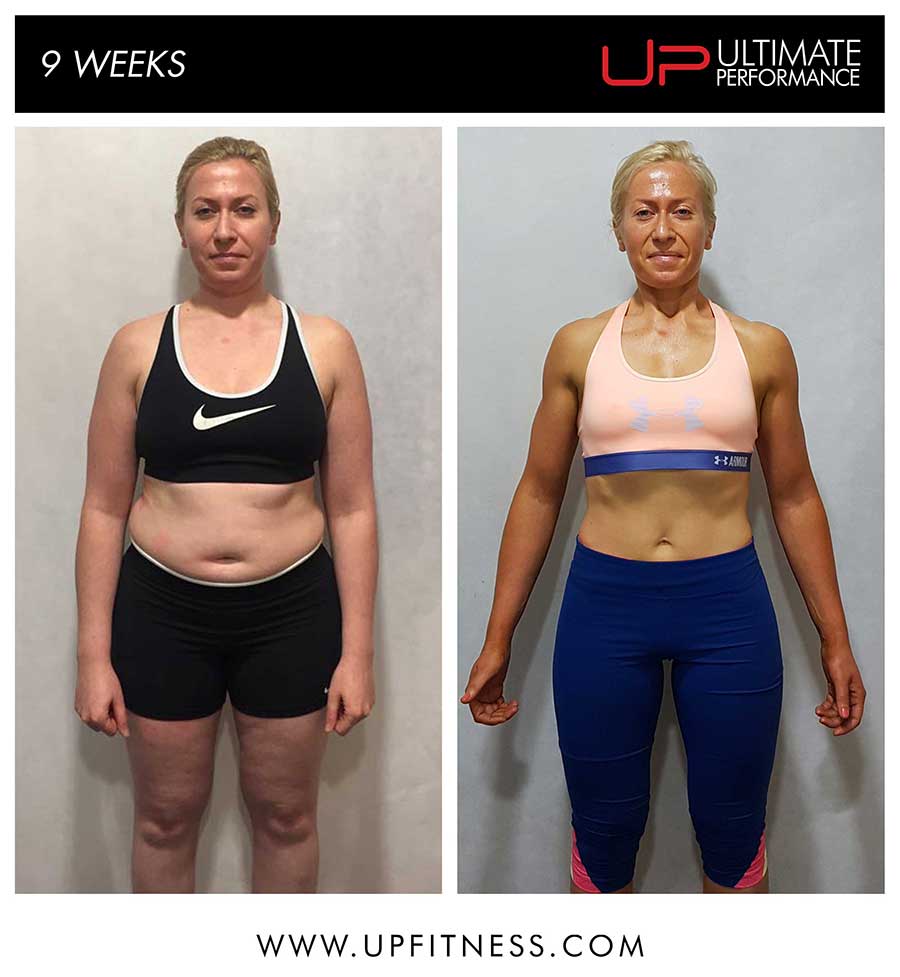 ARRANGE YOUR UP CONSULT AND START YOUR TRANSFORMATION TODAY 
Getting the right mindset…
For nearly six years, I neither fully believed in myself or believed that I could actually do it. Looking at all the real-life transformations happening before my eyes on a daily basis working at UP and seeing the progress photos was like watching a fantasy movie.
From the beginning of last year, I started looking for ways of changing my mindset. I even attended a course in May last year, where we were assessing life goals and concentrating on individual areas of life, which we felt that needed more attention and improvement.
I had to choose what was the one most important thing which I needed to do and focus on in order to get where I want to be in life, physically and mentally.
After looking into the main areas of my life, I realized that achieving the body transformation was the key which will unlock the door to my happiness.
You can't out-train a bad diet…
At the end of last year, I promised myself that I would finally commit and do it; that I would actually complete every single step of it from start to finish and do whatever it takes to succeed.
But for the first three months of this year, I was still in total denial. I started training regularly four times a week and tried to convince myself that I am able to out-train a not-so-good diet.
Every time I checked my body weight the scale was showing the same number.
ARRANGE A COMMITMENT-FREE CONSULTATION AT UP TODAY!  
Finally committing to a real body transformation…
I approached UP trainer, Ben, and asked him for help with the preparation for a photoshoot.
Ben straight away agreed to help me but said that he would only do it if I'm actually committed this time.
I said that I would do whatever it takes and wouldn't waste his time. I felt that from that point onward there was no way back.
I made an out-loud promise and Ben also asked me to send an e-mail to the whole team letting everybody know that I've signed up for the shoot.
From then on, I only looked towards achieving my ultimate goal. I officially committed and wanted to stick to my words.
I really had to step up my game and I remember feeling very nervous about it. I was worried I would fail again, but Ben gave me the support and motivation I needed, alongside a well-designed training programme.
Once I had that I got really excited, motivated and felt that it was now a project I had to complete.
How I finally found the willpower…
For the first time, I caught the right wave, and I just kept on riding it. I was on the right track and kept my eyes on the prize.
The prize I chose for this was simply happiness; being satisfied with the way I looked and also as a bonus prize not going through the anxiety feeling every time I tried to shop for clothes.
'Tried' is a good word to describe it as most of the time I wouldn't buy anything that I liked. The moment I looked in the changing room mirror I was done with the clothes shopping for the day.
I would just rush out of the shop feeling very annoyed with myself, and I hated that each time. It made me feel really anxious and that I can never enjoy the experience.
Instead, I would straight away fall back into what was for years my comfort zone and head over to the nearest coffee shop to "treat" myself to a piece of cake or some snacks to instantly make me feel better.
It was a vicious circle, and I felt like a hamster in a wheel that just could not stop! I realised that it was self-sabotage.
I was unhappy, and this had to stop. I had to make a conscious decision to break the cycle and just break through.
I found the willpower I needed, it stayed with me all the way and it really kept me going.

FIND OUT ABOUT OUR PERSONAL TRAINING PLANS HERE 
Losing 5kg in three weeks…
I remember getting on the tube home from work one evening some time ago and the passenger who was sat in a priority place offered me their seat.
My stomach was so bloated that they thought I was pregnant! I blamed it on a latte I had that day – I was in total denial, my lifestyle was nowhere near as healthy as I believed it was.
From what I remember, I never had a flat stomach, and for most of my life I thought this was how I was supposed to be!
What helped me really quickly after starting the diet plan was eliminating all dairy products, eggs, wheat, starchy carbs, and sugar.
Having meat, poultry, fish, and veggies worked really well for me. I was tracking all my food and as early as after only one week of eating just that in specific amounts per meal my stomach got much flatter, and I noticeably started dropping weight.

I lost 5.5kg in just three weeks, and it showed massively! Coincidence? I don't think so.
At that stage I started getting lots of compliments, like "Where is your other half gone?!, "You do have a neck!", "Your bum is looking smaller," "Half of your face is gone," "Have you lost weight, or you just look different?" I knew I was making progress!
NOT NEAR A UP GYM? START YOUR ONLINE BODY TRANSFORMATION TODAY!
The plan was simple but effective…
Once I got into my new routine, it was easy. I have become really well organized with the meals preparation and the training.
I had a very clear, simple and straightforward plan to follow and I made sure it worked well for me.
I was consistent, and along the way, I've picked up so many good habits with my diet and keeping active over the nine weeks that the old ones just had no chance to survive.
This time around I had a very clear vision of what will be happening from one day to another in terms of training and diet, but most importantly I was able to visualise what would be my final result.
I knew why I was doing it, I really wanted to do it and in my mind, I could clearly see the achieved result.
Kickstarting the fat loss
I wasn't as active as I should be and my daily target was to do at least 10,000 steps, so Ben suggested that I start getting up earlier than usual and go for a half an hour walk first thing in the morning.
This was one of the key changes we introduced with the plan, and it helped massively with the fat loss as well as my energy levels.
What I found over the years was that the more physically active I am regularly, the better I feel mentally. Now I feel much more composed, calmer, present and just happy.
Before I would just go for a couple of hours' walk in the Hampstead Heath on the weekends, which was nowhere near enough for me. I do spend a lot of time sat at my desk at work, so I had to become more aware of how much more active I should be because of this.
I absolutely love the early morning walks and it is now a part of my daily routine. It has also become my mindfulness practice and part of my morning ritual.
No more anxiety…
Before I started the programme, I would occasionally suffer from anxiety attacks, which were quite often totally unexplained. I'd wake up at night with this horrible feeling, and I wouldn't be able to go back to sleep.
The next day I'd be totally exhausted because of it and it would take me a whole day to recover.
But right from the beginning of the transformation the attacks have just stopped happening to me! My mind is very clear and I can deal with any potentially stressful situations as much internally as well as externally in a calmer and rational way.
My sleep has improved, and I no longer wake up at night. This again is no coincidence.
Cravings are all in your head…
On the first day of week 3, I started having the cravings. Pizza, pancakes, garlic bread, marzipan chocolate bar, ice cream – it was constantly either one after another or all at once at different times during the day.
What I found very strange was that I only ever used to eat those things occasionally, but this time I didn't give in to the temptation.
I wasn't embracing these thoughts and managed to push them aside, while keeping my focus on what was the actual cherry on top of my transformation cake.
Staying on track at social events…
I had quite a lot of social events throughout the nine weeks, starting with my own birthday, friends and family birthdays, and a couple of short trips away.
I've learnt that I could always make the right choice when it comes to food.
My biggest test was going back home to Poland for a long weekend.
I was very worried that I will just follow the old habits of eating anything and everything while with family, but I actually smashed it with eating really well and also training.
I went food shopping and cooked most of my meals, which helped me get my diet on point and also had two awesome training sessions at the local gym, just because I planned it all ahead this time.
I was concerned that I will have to explain why I don't just eat what everybody else was, but instead, my family and friends were actually really interested in the whole process and supported my decisions.
Doing my photoshoot…
The excitement of the whole process was building up over nine weeks and on the day of the shoot felt like I was prepared physically and mentally and every single step I took towards achieving my goal was right. I couldn't be happier with myself.
It kind of feels like I've crossed the finish line and I've won something really great. This feeling is priceless to me, and there is nothing and no-one in the world that could make me feel better about myself than what I did to make this happen over the last nine weeks.

It makes me feel that I can and I will achieve anything I want now.
The only way is UP!
Most importantly, none of this would have ever happened without Nick Mitchell's Ultimate Performance, so thank you very much, Nick, for creating this monster!
Super special thank you also must go to the UP Trainers and guys who at the same time I'm lucky enough to be able to call my friends- Ben, Luke, Eddie, Jay, Reid, Christian, and Joe.
They have all given me their time and advice just because they love what they do and wanted to see me to succeed. I could never get here and achieve such a fantastic result without all your help and support. The words cannot describe how grateful I am for this, thank you so so much!
I admire the true passion that you have for your work and it isn't taken for granted.
To everybody else, I'm extremely grateful for every single word, e-mail and look of support I received throughout the whole process. It really means a lot!
And as the motivational quote over the gym floor says 'Where excuses stop- results begin'.
It really was as simple as that to make the first step towards the right direction. The rest has just lined UP beautifully.
If you're inspired by Marta's story and you're ready to start your own body transformation, ARRANGE A CONSULT USING THE ENQUIRY FORM BELOW!
We show you the best, we don't show you the worst.
We show you people who follow the plans, not those who are all talk.
We show you those who inspire even us with their commitment to their results.
You cannot get results exactly like these. You are unique and that means you can only get your own best possible results.
Your results are a function of time spent following the plan; your genetic response to the right exercise and diet program; how hard you train; how consistently you come to the gym; how disciplined you are with your diet; & your starting point.
Oftentimes the lower your starting point (poor fitness, terrible body composition) the better your results.
We cannot do the work for you and the results you see here are a testament to the work ethic of our clients.
Our reputation is that we are the best trainers in the world for helping you to unlock your potential, & we can lead you to the door, give you the key, even turn the handle and push the door open, but we cannot walk through it for you.
In the end the result is down to you.
Like these results? Send us your details in the form below to receive information about our programs