A year ago Matt saw an advert for Ultimate Performance, at a time when his health had been playing on his mind.
The truth is, Matt had let himself go after years of living an indulgent lifestyle. Joking with his friends about being fat but fit, Matt knew he wasn't fit and that the scales had been creeping up.
Joking with his friends about being fat but fit, Matt knew deep down he wasn't fit.
Something clicked and he knew f he didn't do something urgently, the joke would be on him.
"One morning, I kind of made the jump and filled in the form and sent the email off. The rest after that has changed my life."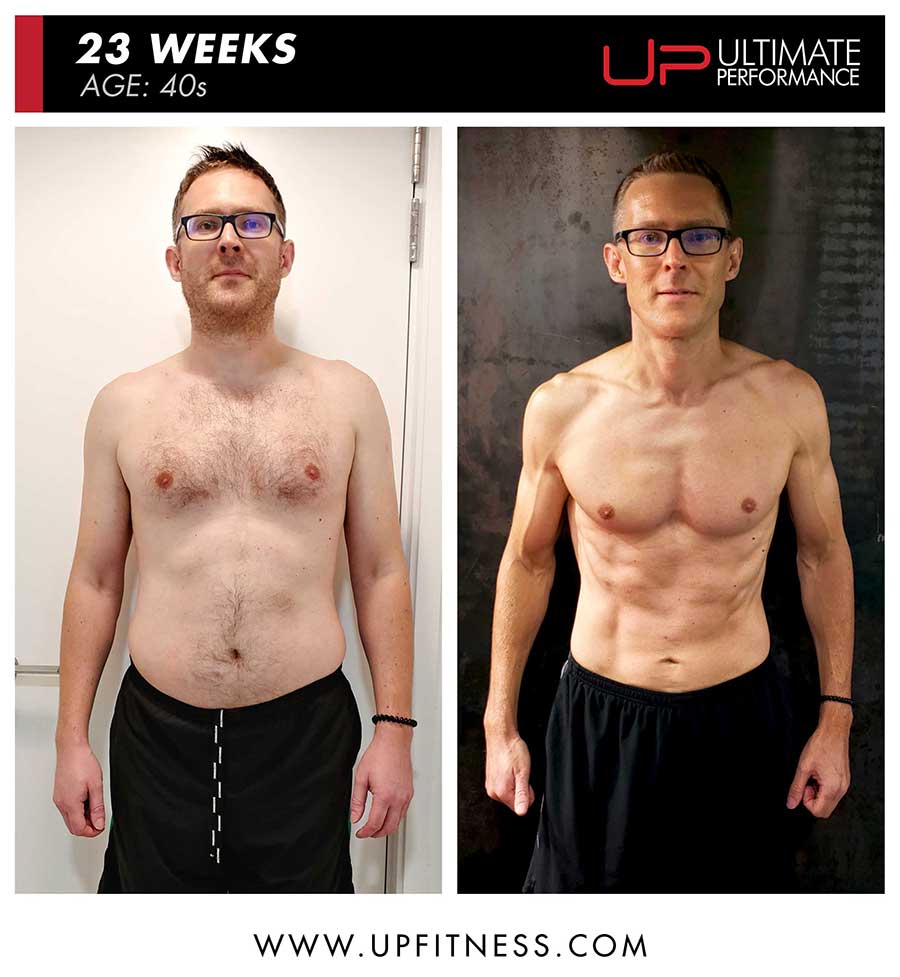 Twenty-three weeks since walking through the doors of Ultimate Performance, Matt can now say with pride he is 'fit', losing an astonishing 18kg in the process.
"We did another photoshoot, we did a 'before' photo and an 'intermediate' photo and just seeing the change I made already was a motivation to push me. I saved that on my phone, so every time I'd walk past a cake shop or a pizzeria or a burger joint I think of that photo as motivation to keep pushing on."
Matt's downfall previously was always his diet. He admits that he didn't take it seriously. He fell into the trap of thinking that because he had been to the gym or gone on a run, that he could eat whatever he wanted.
Before he knew it, all the eating out and drinking left him overweight and unhappy.
---
MATT'S LIFE IS COMPLETELY DIFFERENT TO WHAT IT WAS BEFORE HIS TRANSFORMATION – STARTING YOUR OWN IS AS SIMPLE AS MAKING AN ENQUIRY
---
Determined to be fit and not fat, Matt put his all into his transformation. He was surprised how easy he managed to fit it into his busy life.
"I was pleasantly surprised that it was quite easy to adapt the recipes, things I was making and things I was eating."
The biggest change for Matt was cutting out alcohol. He found himself swapping beer for green tea — something he never thought he would do.
"The other big change was cutting out the beer. I found myself during the World Cup, sitting down on the sofa watching a game of football with a cup of green tea, which sounds crazy, but it's not as bad as I thought it would be and it made a big difference to my health."
The combination of Matt's dedication and our expert guidance meant he was able to achieve results in a matter of weeks.
Seeing himself get leaner, lighter, stronger and fitter week on week, Matt's confidence grew along with it.
---
ENQUIRE NOW TO FIND OUT MORE ABOUT OUR PERSONAL TRAINING PLANS
---
"I started noticing results quite quickly. When I did the first weigh-in, I was really surprised by the amount of weight I had lost in the first couple of weeks. I also just found my general strength going up quite a lot and just, just feeling more athletic. I felt fitter."
Not only did Matt learn how important nutrition was to live a healthy lifestyle and achieve his dream physique, training at U.P. taught Matt how to really push himself in his sessions.
"Having a trainer really helped with pushing yourself all the time, whereas before when I went to the gym I'd do a couple of sets and think, 'yeah that's alright' and do what I've been doing for the last six months. Having a trainer pushing you and every time it gets easy — bumping up the weight, bumping up the intensity, changing something up and making it even harder. That was a really important lesson — you've always got to keep pushing. You've always got to challenge yourself."
In under six months, Matt has achieved his goal of going from fat to fit. He's earned his dream physique and transformed his lifestyle, going from eating takeaways at his desk to preparing healthy balanced meals himself.
It took Matt a year to finally send off his inquiry form and now he wishes he'd done it sooner. His advice to anyone who is wavering like he was, is "just do it!"
---
We show you the best, we don't show you the worst.
We show you people who follow the plans, not those who are all talk.
We show you those who inspire even us with their commitment to their results.
You cannot get results exactly like these. You are unique and that means you can only get your own best possible results.
Your results are a function of time spent following the plan; your genetic response to the right exercise and diet program; how hard you train; how consistently you come to the gym; how disciplined you are with your diet; & your starting point.
Oftentimes the lower your starting point (poor fitness, terrible body composition) the better your results.
We cannot do the work for you and the results you see here are a testament to the work ethic of our clients.
Our reputation is that we are the best trainers in the world for helping you to unlock your potential, & we can lead you to the door, give you the key, even turn the handle and push the door open, but we cannot walk through it for you.
In the end the result is down to you.
Like these results? Send us your details in the form below to receive information about our programs